Products
Products
Electric pallet truck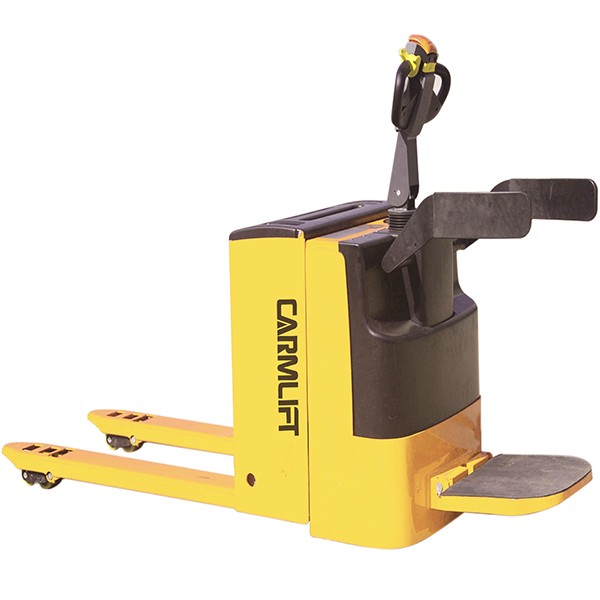 Product Description
● The shock absorption design of foldable platform improves comfort greatly to the operator. (Stand-on)
● The new designed floating suspension driving system, adjusted automatically with loads, offers the driving wheels sufficient power. (Stand-on)
● Simple and beautiful tiller designed to operate all functions easily even by one hand.
● Displayed turtle speed function applied to move slowly and helps to stack goods in narrow spaces.
● Optimized designing structure to offer a good visibility and easy entrance of the pallet.
● The compact body and big rounded design provide an ideal operation in limited space, and the wedge designed chassis greatly increases the passing ability.
Product Parameters
Model

CBD20

CBD25

Capacity(kg)

2000

2500

Operate type

Stand up

Load Center(Q、mm)

600

600

Front wheel size(mm)

φ80x70

φ80x70

Rear wheel size(mm)

φ130x55

φ130x55

Traction wheel(mm)

φ230x75

φ230x75

Max.lifting height(mm)

200

200

Fork clearance from ground(mm)

85

85

Fork Dimensions(L、mm)

1150*180*50

1150*180*50

Total length(L2、L3mm)

1856

1856

Total width(B、mm)

750

750

Fork overall width(B1、MM)

550/680

550/680

Truning radius (open pedal)(R1、R2mm)

1530

1530

Brake type

Electric at butterfly release

Traction motor

1.5 kw/24v

Lift motor

2.2 kw/24v

Self Weight(kg)

350

390

Battery volts/ampere

2Vx12/210AH

2Vx12/210AH

Battery charger

AC220V/50HZ

AC220V/50HZ